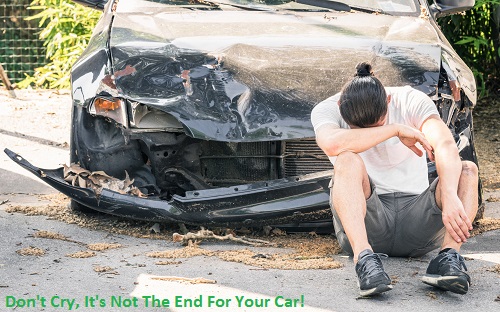 Have you been involved in an accident which has left your vehicle beyond repair? Perhaps the insurance company has written it off because the cost of repairing it is higher than the value of the car itself.
If you're asking yourself why scrap your car in Leicester, then you could be pleased to know that it might be the best decision you've made in a while.
There was a time when scrapping your car was a complete headache that would leave you both out of pocket and without wheels. Not surprisingly, it led to insurance write offs being dumped and set on fire across the country, thanks to unscrupulous individuals who didn't want to foot the bill to have them scrapped.
In response to the problem, new government legislation was brought in a few years ago to not only make it easier to scrap a vehicle, but to give owners the chance to actually make money from their vehicle, improve modern scrapping processes and make them kinder to the environment too.
Now people looking to scrap their car can take it to a licenced Authorised Treatment Facility (ATF) and have it disposed of in the best possible way.
The process of scrapping your car
If you're considering car scrapping in Leicester, then the first thing you should do is get an online valuation to find out how much money you could get back for it.
Then, apply to take the registration number from the vehicle if you want to keep it. After that, you should take it to an ATF for free, give them your V5C log book (keeping the yellow slip) and often you'll get money back in return.
Then what happens in the process of scrapping your car?
The ATF will ensure the correct scrapping procedures are followed.
They will ensure dangerous and hazardous materials, such as the battery, are removed and disposed of correctly.
Any reusable parts will be salvaged and sold on.
Materials and liquids such as engine oil, which might pollute the soil or water supply, will be disposed of safely.
They will inform the DVLA when the car has been scrapped.
They will issue you with a Certificate of Destruction (CoD), which is proof that the vehicle has been scrapped and you'll no longer be liable for traffic offences or road tax.
Remember to get a refund for any unused road tax or car insurance.
Howkins take nearly any car, contact us today
At Howkins, we have been in the process of professionally scrapping cars for over 20 years and are a fully licenced Authorised Treatment Facility.
When you need to find somewhere in Leicester to have your car scrapped, we will happily collect it from you, meaning there's no worrying about how you'll get home after you've dropped it off.
We will then ensure your car is properly dismantled and taken care of, with the relevant parts disposed of correctly or sold on.
There aren't many cars that we won't take, so get your free valuation online or contact us today to find out more.