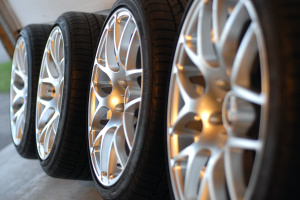 When you're proud of the car you drive, alloy wheels are a great way to have it looking amazing. And no longer are they purely the reserve of the more expensive cars on the market. You can get alloys for all kinds of makes and models of vehicle these days, and it doesn't have to cost the earth either.
We see hundreds of drivers looking for replacement alloy wheel sets in Leicester, and it's not only the aesthetics that make them so special.
Many keen drivers believe they can add to the performance of a vehicle, due to their lightweight and durable nature, improving features such as the handling, acceleration, steering and even the MPG that your car will do.
But, on the flipside, brand new alloys can cost a pretty packet and that's where we can help. Why fork out so much for your alloys when you can get 2nd hand alloy wheels sets in Leicester that look just as amazing?
Single Alloy Wheels From £45, Sets from £90
At Howkins, we have been offering high quality replacement alloy wheel sets for many years. And the range that we have available is pretty impressive. So, when you scuff your alloys and could do with a replacement, or even if you fancy upgrading your wheels to something special, we are the place to come.
Our single alloy wheels start from as little as £45 and you can pick up whole sets from £90 – a great reduction on the cost of buying them new, but you can guarantee there's no cutting corners on the quality or kerb appeal.
Many Makes & Sizes Available
We weren't kidding when we said we have many makes and sizes available. Check out this lengthy list of second hand alloy wheels that we have currently in stock, which would make a massive impact on the appeal of your car.
Audi A4, A3, A6
BMW X5
Citroen C4
Fiat Punto
Fiat Seicento
Ford Fiesta
Ford Focus
Ford Galaxy
Ford Ka
Ford Mondeo
Ford Transit
Honda Civic
Honda CRV
Hyundai Coupe
Jaguar S-type
Jeep Grand Cherokee/ Wrangler
Kia Sportage
Mazda 6 and 5
Mercedes C-Class
Mitsubishi Lancer
Mitsubishi Colt
Peugeot 206, 406 and 807
Proton
Renault Espace
Renault Megane
Rover (wide range of types)
Saab 93
Toyota Avensis
Toyota Celica
Toyota Corolla
Toyota Yaris
Vauxhall Astra
Vauxhall Cavalier/Nova
Vauxhall Corsa
Vauxhall Omega
Vauxhall Zafira
VW Golf
VW Polo
Contact Howkins Motor Spares Today
If you're looking to get replacement alloys for your car, or you want to make your vehicle extra special, then, before you take out a second mortgage to buy them brand new, why not take a look at some of the stunning second hand alloys that we have available?
With a wide range of makes and models in stock, we're sure we can find the right piece of kit for your car. And, as with all of our car parts and motor spares, we only offer the highest quality when it comes to everything we sell.